When the World Health Organization (WHO) declared an end to the global Public Health Emergency (PHE) for COVID-19 on May 5, 2023, it marked the end of an era. Though the PHE was only in effect for three years, the pandemic has significantly changed the way we live. While we are adapting to the new operating environment, the impacts of COVID on how organizations operate are still with us. During the shutdown, many nonprofits were affected by the limitation of activities, decrease in funding, and the dangers to the health of their staff. Many had to change their way of working.  
In a new blog series, we would like to share with you the experiences of our fiscally sponsored organizations (FSO) during the pandemic. As their fiscal sponsor, we worked closely to make sure our FSOs had the administrative support and services to weather the emergency. We hope their stories can inspire and encourage you on the way to creating a better community, a better society, and a better world. 
In this first blog of the series, we talked with Dinah Shepherd, Co-Founder and Co-Director of First Teacher. Based in Roxbury, Massachusetts, First Teacher is a community of parents and caregivers working together to prepare children  to be school- and world-ready. Here is our dialogue.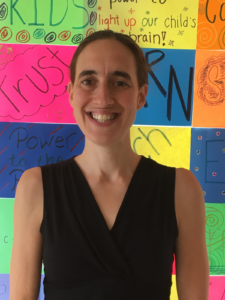 (Dinah Shepherd, Co-Founder and Co-Director of First Teacher) 
TSNE: Tell us about First Teacher. 
Dinah Shepherd: First Teacher is a community of parents and caregivers working together to prepare kids to be school and world ready. It's called First Teacher because of the belief that parents are their child's first teachers. Its first goal is building community with families and the second goal is to help families prepare their kids for school and the world. First Teacher just celebrated its 10 years old birthday! 
TSNE: What was First Teacher doing in 2020 when the pandemic started?  
Dinah: As always, First Teacher was responsive to what families needed and what families could offer each other. When we first reached out to families in March, they told us they wanted: space to cry and vent, ideas for physical activities with their kids, and ways to help their young children foster their reading skills. 
First, we created the weekly Parent Virtual Commiseration Party which was an open zoom for parents to come in and say the bottom had fallen out. At that time, not only were you your child's first teacher, but you were also your child's literal teacher. It was terrifying for many parents. Second, parents wanted to stay active with their kids, so we formed a partnership with Boston Scores where they taught kids and parents how to play soccer. Third, parents wanted mental health support for themselves and their children. We hired an amazing Cape Verdean therapist who did Wellness Wednesdays with families. Then we helped families get referrals to therapists. The demand for therapists of color is especially high. A lot of families still really struggle to find that. 
(A picture from Family Play Week during the summer in 2022) 
TSNE: What are the biggest challenges/changes First Teacher has faced during these three years?  
Dinah: The biggest challenges were our staffs' mental health. Our staff was experiencing the same crisis as everybody else. Having to get the work done while also making sure everybody's OK was challenging. Another thing is figuring out how to make an accurate budget. It's taking us a while to figure out how much virtual programming costs and how much in-person programming costs. In 2022, when we thought we would be coming back all in person, Omicron hit. So last year we were largely under budget because in person programming is so much more expensive and that's what we planned for. But then this year, we were largely over budget because we are holding more in-person activities.  
One of the biggest changes is the way to build our partnerships with community organizations and schools. Before we had this belief "let's build geographic-based cohorts of families". But during the pandemic we had to bring everybody together from all the different cohorts. We realized that it's pretty paternalistic that you should hang out with these families only in your neighborhood and it's actually better for networking if you can meet people from all over the city. So now the way we do partnerships is, if somebody reaches out to us for programming needs, we'll pilot programming there. We'll do three or four workshops, then we invite all those families to the larger First Teacher movement. Families can have more programming choices based on their schedules.  
TSNE: How has First Teacher responded to these challenges and what innovations did you do?  
Dinah: Some of our best virtual programming came out of the pandemic. For instance, one of the things parents were really worried about was their young child's literacy skills. A lot of First Teacher kids are 3-6 years old, during which ages you're really learning all the early literacy skills. One of our staff members, Karla, started a good night book club. It's bilingual in English and Spanish, happening every other week. We drive around the city delivering beautiful books that are very representative of First Teacher families. Every family keeps that book and comes on Zoom to read it together. We've gotten a lot of awesome feedback from parents and families are really grateful and excited about how representative the books are. All of them are black and brown characters because that's what First Teacher families are. It's so important for kids and parents to see themselves in early literature.  
In addition, we've added more mental health support into our day and into our work. We have an entire team called the Joy and Wellness Team. They do things to help us meditate and send us messages throughout the week to remind us of silly little things that are really important, such as "Don't forget to get up from your computer" or "Don't forget to drink water".  
(The most recent photo of First Teacher staff – front and back) 
TSNE: Between 2020 and now, use three words to describe how different your organization has become. 
Dinah: Flexible, Responsive, and Relaxed. For the first two words, we already were there before the pandemic, but we've doubled on that. And we're more relaxed because we know what matters and we work hard on that. I feel a pandemic should have taught us that we should work more by task than time. You know what you need to do to get work done. We've cancelled meetings we did just for the sake of doing them. And we really focus on building our team with each other versus just being outward facing and partnering with families.  
We increased by around 100 families during the pandemic. Our growth has always been very slow. We increased by 15-25 families a year on purpose because relationship building is so important. But people were flocking to us during the pandemic. The fact that we put in all that time to build relationships with families in the community really made a difference.
First Teacher has been a fiscally sponsored organization with TSNE since 2015. Learn more about First Teacher by visiting their website. Support First Teacher by making a donation. Stay tuned for more stories of the pandemic from our fiscally sponsored organizations.  
About Fiscal Sponsorship at TSNE 
At TSNE, we provide financial, grant, and contract management, and other business and administrative services to nonprofit organizations, of varying sizes, ensuring those of differing financial positions can access the support they need to sustain their work. Learn more. 
About the Writer 
Ziqi Zhang is a Grants and Finance Associate in TSNE Fiscal Sponsorship team. She joined TSNE in October 2022. She graduated from Brown University with a master's degree in public humanities. Some of her various interests are movies, theater, and tennis. She is passionate about seeing and interpreting the world in different ways.